The Most Popular British & Irish Breakfasts for Expats Abroad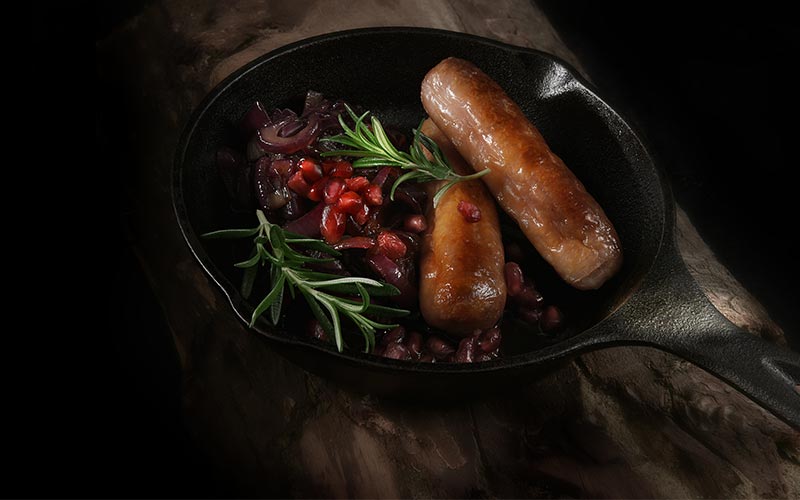 As British and Irish expats living in France and other areas throughout Europe, one of the things that can make us feel closer to home is the comfort of a delicious breakfast. While French pastries and coffee are renowned worldwide, there's something special about the hearty and comforting breakfasts from the Ireland and the British Isles. In this post, we'll explore the top British and Irish breakfasts you can enjoy right here in France, or wherever you are.
Living as British and Irish expats in France, we may miss the flavours of home, but these top five British and Irish breakfasts offer a taste of nostalgia and comfort. Check out some of the most popular breakfast ideas and find your ingredients with Bacon by the Box. 
What are the top British and Irish Breakfasts?
The Full English Breakfast
The Full Irish Breakfast
The Quick & Easy Bacon Sandwich
Corn Flakes or Your Favourite Breakfast Cereal
The Scottish Breakfast
Porridge/Oats
The Full English Breakfast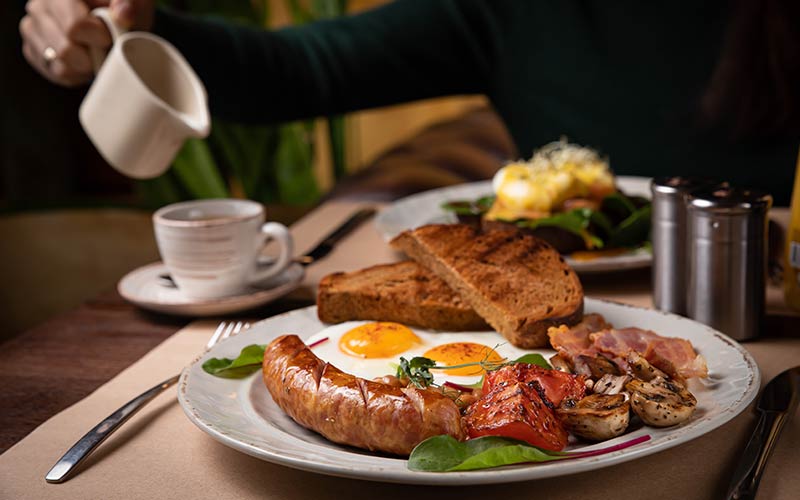 The english breakfast is a traditional British breakfast that typically includes several ingredients, including:
eggs
tomatoes
mushrooms
hash browns
toast
This is a substantial breakfast meal that is typically enjoyed at the weekend, but many will enjoy this iconic dish midweek too. 
Many restaurants, cafes, bed and breakfast establishments, and pubs still offer the classic full English breakfast overseas, making it a popular selection on breakfast menus. Furthermore, some individuals prefer a streamlined version of this breakfast regularly, customising it to fit their daily routines by omitting certain elements or choosing healthier alternatives or vegan options. 
It can be very difficult to find good english breakfast ingredients outside of the U.K and Ireland, but don't fret, you can order all items for this tasty meal on our online shop and have it shipped directly to your door.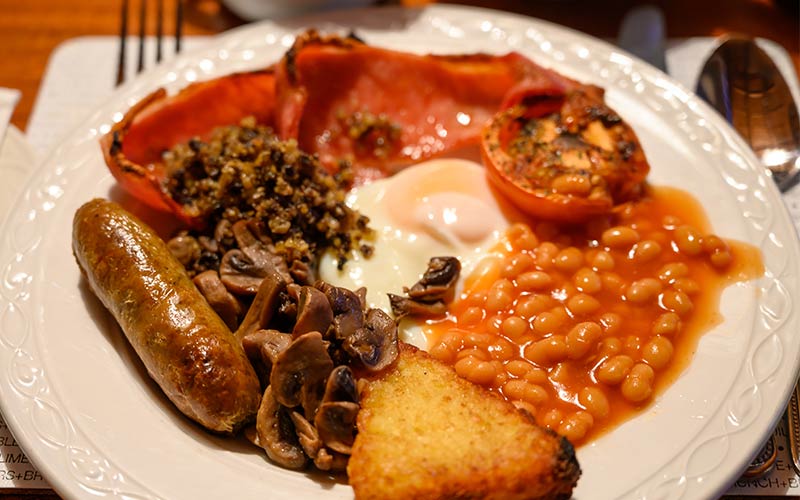 The Full Irish Breakfast is another sought after substantial breakfast dish that has similarities to the Full English. Comprised of usually high-quality irish meat ingredients, the typical shopping list icludes: 
Irish Bacon 
Irish Sausages
Black and/or White Pudding
Fried Eggs
Tomatoes
Mushrooms
Fried Potatoes 
Baked Beans 
This breakfast is a popular choice in Ireland, whether it's enjoyed at home on a saturday morning or enjoyed in a breakfast cafe, restaurant or hotel. Many people who have moved away from Ireland, whether temporarily or permanently, often find comfort and nostalgia in traditional Irish foods, and the Full Irish Breakfast is no exception. 
Sharing a Full Irish Breakfast can also be a social or cultural experience for expats, bringing a sense of familiarity and a connection to their roots. It's not just about the food but also about the memories, traditions, and a way of maintaining a connection to Irish culture while living abroad.
Again, you will find all ingredients via Bacon by the Box, and we can ship directly to you whether you are in France, Luxembourg or Belgium. If you are outside of these locations, please don't hesitate to get in touch and we will do our best to facilitate your order.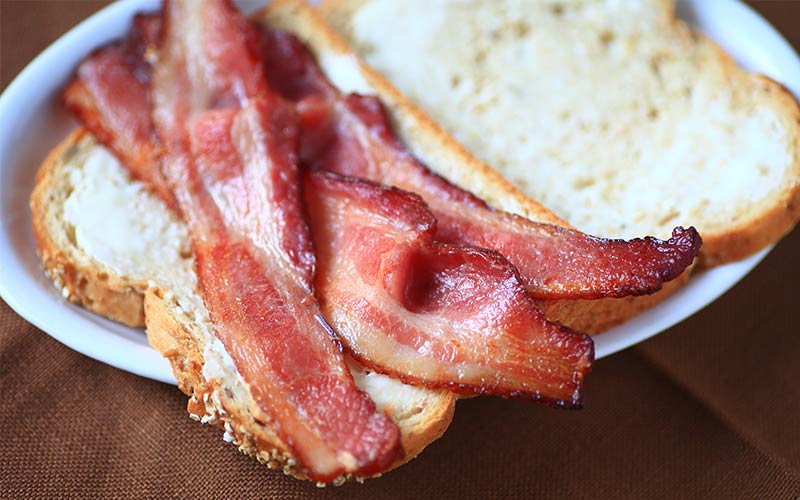 Ah yes, the bacon sandwich! Another staple in the UK & Ireland breakfast diet. 
The bacon sandwich typically consists of grilled or fried bacon placed between slices of bread, which can be buttered, left plain or other condiments such as brown sauce, ketchup can be added for enhanced flavour.
The type of bread used can vary, ranging from white or whole wheat bread to baguette rolls or buns.
Make sure to try out this quick and easy meal with our delicious unsmoked streaky bacon. Others may prefer our Clonakilty Mild Cure Bacon or Wet Cure Bacon.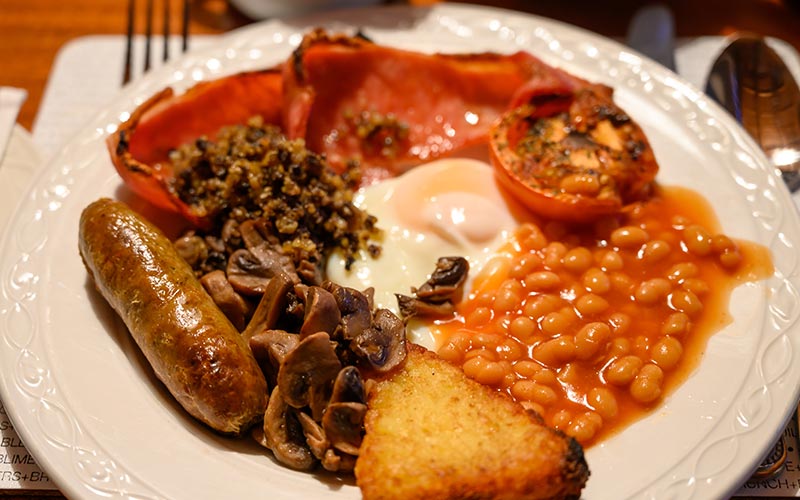 The Full Scottish Breakfast reflects the rich culinary traditions of Scotland and is often enjoyed as a substantial meal to start the day. Like other "Full Breakfasts," it's a combination of protein, carbohydrates, and fats, providing a hearty and satisfying breakfast experience.
The ingredients list is very similar to the Full English and Full Irish, but often includes Haggis in place of traditional black or white pudding. Haggis is a traditional Scottish savoury pudding that consists of a mix of sheep heart, liver and lungs, minced and combine with onions, oats, suet, spices and seasonings. It is usually encased in the stomach lining of the sheep or a similar casing. Despite its ingredients not being everyones cup of tea, haggis has a rich and flavourful taste, and many people enjoy it as a traditional and cultural delicacy.
Cornflakes or Breakfast Cereal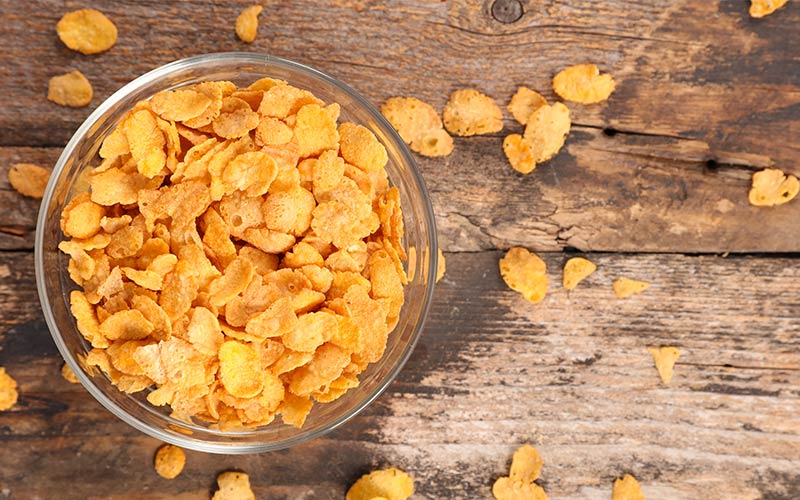 Who doesn't love cereal? Brands such as Kellogg's, Weetabix, and others that are commonly found in the UK and Ireland may be sought after by expats looking to recreate a taste of home and enjoy the breakfasts that they have become accustomed to over the years. 
Some of our favourite cereal options include: 
Still can't find your favourite breakfast cereal? Let us know via email or our online chat feature and we will do our best to add it to our online inventory.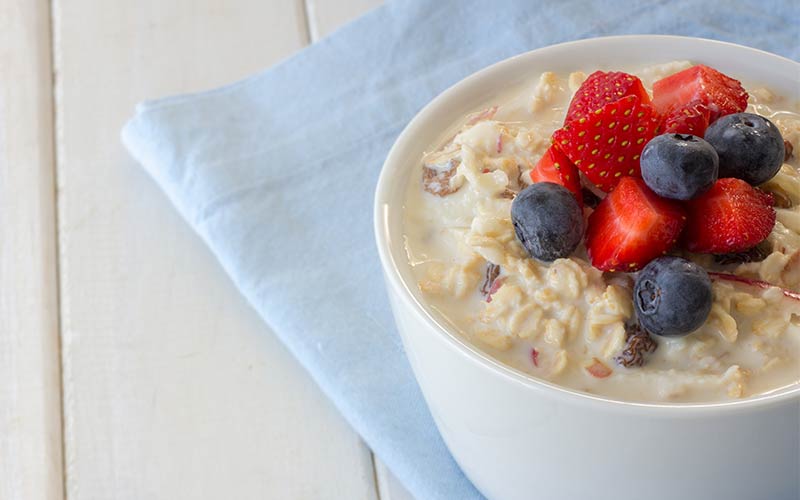 Oats are a popular and versatile breakfast item enjoyed by many expats around the world. They are a nutritious option and a great source of complex carbohydrates, fibre, and various essential nutrients.
We recommend Flahavan's Oats from our online store. Flahavan's unique way of milling gives their oats a natural, wholesome texture and flavour. The result is a warm, nourishing bowl of Flahavan's – a delicious breakfast with a creamy taste. Oats can be prepared in various ways to suit different tastes and preferences, including: 
Oatmeal/Porridge
Overnight Oats 
Homemade Oat Bars
Oat Smoothies
Homemade Granola 
Whether you're craving the hearty Full English Breakfast or the simplicity of breakfast cereal, there's a breakfast option to suit every mood and occasion. So, next time you're in the mood for a taste of Britain and Ireland, head to our online store and order your quality ingredients. 
Other Traditional Irish & British Recipes